Sadly, Daniel died on a family holiday to Egypt in 1900 and the Long House was let to Herman Klinker, a gentleman farmer and piano importer.
Klinker had many talented friends who would visit and it is easy to imagine Czech composer and violinist Jan Kubelik, and Klinker's other friends, performing in the Ball Room. Life during these times has been captured for us by Herman's daughter Nanetta, who was a talented photographer.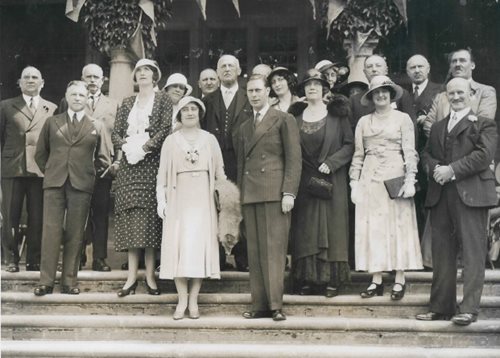 In 1926, the house was bought by the Ex-Services Mental Welfare Society. The Society, which was established in 1919 by Sir Frederick Milner, 'the Soldiers and Sailors Friend', campaigned for shell-shocked veterans and Sir Frederick was one of a group of forward-thinkers who felt that those with mental health problems should not be treated in asylums.
Instead, he believed they should be actively engaged in a positive environment and he built a factory and market garden in the grounds, which not only provided a wage and skills for the workers, but also helped the Society to raise funds to provide help for those who could not work and to campaign for the rights of ex-servicemen.
The home's beautiful grounds were used to hold fundraising garden parties and, in 1932, Queen Elizabeth II's parents, the then Duke and Duchess of York, visited the home during a holiday at Polesden Lacey.
During the Second World War, Milner House again came into its own, providing accommodation for bombed-out families as well as continuing its work with servicemen.
The house was eventually sold to Ashbourne Homes and the factory at Milner House was taken over by Remploy – a not-for-profit organisation that provides work for disabled people.
In 2011, Care UK took over Milner House and following an impressive investment and redevelopment programme, the home once again offered a new style of ground-breaking care, with residents encouraged to lead a fulfilling lifestyle with the support of a dedicated and experienced care team.