A care home in Stanley received a sought-after award thanks to residents and team members' plant-astic gardening and landscaping skills.
Care UK's Stanley Park, on Wear Road, was crowned the winner of Stanley's 'Blooming Good Fun' contest in the business category – earning themselves a spot for the regional Northumbria-wide competition next year.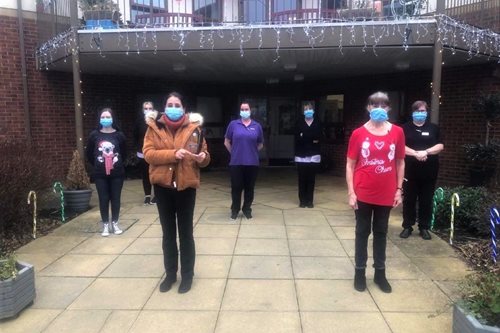 Launched in 2014, the annual initiative invites local residents and organisations to create the most spectacular gardens, yards and planters.
As part of their entry, residents and colleagues worked together to spruce up areas of the garden and create intricate botanical sculptures. The themes, picked by the home, were inspired by beaches and train stations, two places associated with many positive memories for residents, providing an opportunity for them to reminisce – all while showcasing their gardening skills.
Creations included a tranquillity garden, featuring impressive flower displays, as well as a rowing sailor surrounded by flower beds and a mock train station in the home's garden, complete with vintage posters, suitcases and planters.
Christine Gibson, Home Manager at Stanley Park, said: "We're over the moon to have won the 'Blooming Good Fun' contest – we have many green-fingered residents here at Stanley Park and have entered the competition every year since 2015, so to be crowned the winner means a lot to everyone here.
"Gardening itself has many therapeutic benefits for older people, especially those living with dementia, encouraging physical activity and also time spent outdoors, which can help to lower stress and anxiety levels.
"We had a fantastic time putting together our displays, and it was great to hear residents' memories of holidays by the seaside and train travels from their younger years in the process too. We are looking forward to making the most out of our newly spruced-up garden in spring."
Stanley Park has been designed to deliver the very best standards of care and to enable residents to live active and fulfilled lives. The home provides full-time residential and nursing care, as well as short-term respite.
To find out more about Stanley Park, please contact Home Manager, Christine Gibson, on 01207 668587 or email christine.gibson@careuk.com.
For more general information, visit careuk.com/stanley-park.