Residents at two care homes in Edgbaston have been revisiting their favourite hobbies and shared their skills with the younger generation.
Residents at Care UK's Metchley Manor, on Church Road, and Edgbaston Manor, on Speedwell Road, have been stepping back in time to enjoy painting and singing as part of a nationwide initiative – Long Lost Hobbies.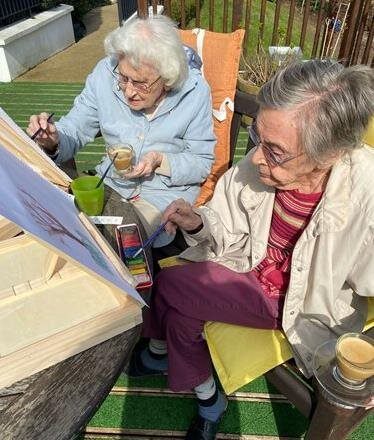 The 'Long Lost Hobbies' initiative sees residents in Care UK homes across the country share their favourite hobbies and try new pastimes with younger generations after a national survey found 77% of adults feel technology is the cause of traditional skills being lost, including flower arranging, knitting and woodworking.
To ensure the hobbies of older generations are not forgotten, residents at the homes have been getting to the knitty-gritty and unwinding what makes their favourite pastime so enjoyable. At Metchley Manor, residents have been enjoying the spring weather by painting the home's garden and sharing their painting skills with their grandchildren, while at Edgbaston Manor, resident Eve, a former singer, has been revisiting her singing skills with the other residents and team members.
Kim Marie Newton, General Manager at Metchley Manor, said: "We had a fantastic time painting in the garden and sharing our artwork with the younger generations here at Metchley Manor.
"For those living with dementia, revisiting a past hobby, such as painting, can help bring back memories, as well as providing an enjoyable way to connect with others through a familiar activity that once brought joy. These positive feelings gained from revisiting fond memories can help decrease stress, reduce agitation, and provide a feeling of success and confidence.
Zoe Steventon, General Manager at Edgbaston Manor, added: "Residents and team members at Edgbaston Manor have loved revisiting their favourite hobbies. It has been lovely to see Eve reminiscing about her earlier career days as a singer and sharing her fond memories from this talented hobby.
"Music is so beneficial, especially for those living with dementia as it prompts residents to reminiscence and share memories and experiences with one another. Eve's passion for singing has inspired the others within the home to engage with musical activities, which has been wonderful to see!"
For top tips on how you and your loved ones can revisit forgotten pastimes or discover new ones, please visit: careuk.com/long-lost-hobbies.
Metchley Manor and Edgbaston Manor has been designed to deliver the very best standards of care and to enable residents to live active and fulfilled lives, while also promoting independence. The homes have been configured into a series of neighbourhoods to help facilitate the creation of close-knit communities and encourage social interaction among the residents. There is also plenty of space, both indoors and out, for relaxation and recreation.
For more information on Metchley Manor, please call Director of Community Relations, Zoe Doherty, on 01216672047, or email zoe.doherty@careuk.com or visit careuk.com/metchley-manor.
For more information on Edgbaston Manor, please call Home Admissions Advisor, Natasha Phillips, on 0121 314 9908, or email Natasha.Phillips@careuk.com or visit careuk.com/edgbaston-manor.