A local care home is celebrating after winning the silver award in Frome in Bloom 2022.
Residents and team members at Care UK's Rossetti House, on Welshmill Lane, were thrilled to be crowned runners-up and take home the silver award in the category for Hospitals, Community and Retirement Homes, as part of the Frome flower competition.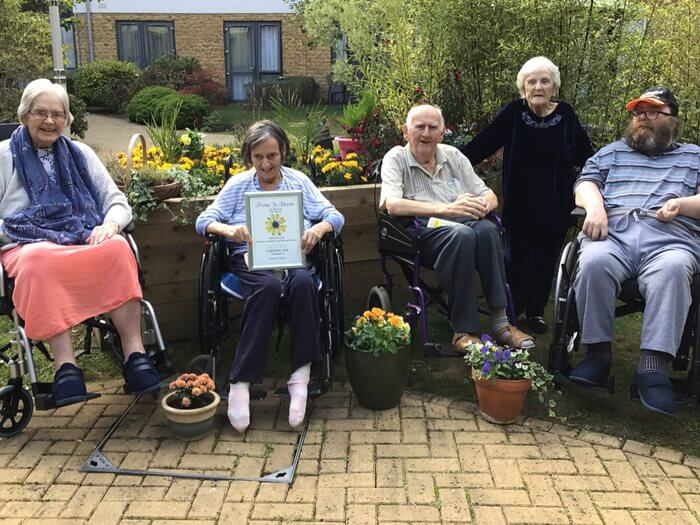 The garden is a result of the home's green-fingered residents who regularly visit the local garden centre to choose new plants and flowers as part of their weekly gardening club. With the help of team members, residents maintain their garden by removing weeds, watering the plants and ensuring the garden is always prepared for the changing seasons.
Phil Vale, General Manager at Rossetti House: "We are delighted to take home silver in this year's Frome in Bloom competition and for the residents' hard work and dedication to be recognised by everyone in Frome.
"The residents in our gardening club work tremendously hard with team members to ensure our outdoor spaces continue to look impressive, and that the garden is a calming space for everyone to enjoy.
"With winter on the way, our garden is now prepped and ready for the chillier months ahead – with the residents already hard at work on plans for spring and summer next year. With a silver award already achieved, we're setting our sights on gold next year – watch out Frome!"
Designed to enable residents to live active and fulfilled lives, while also promoting independence, Rossetti House incorporates space for hobby and leisure activities. The building has been designed to help facilitate the creation of close-knit communities and encourage social interaction among the residents.
For more information on Rossetti House, please call Home Admissions Advisor, Helen Cross on 01373 887988, email helen.cross@careuk.com or visit: careuk.com/rossetti-house.