A care home in Mobberley is celebrating after its Head of Housekeeping was shortlisted for a national award.
Sue Beckett, Head of Housekeeping at Care UK's Cranford Grange, on Hall Lane, has made it to the final stage in the 'Quality in Housekeeping' category at the National Care Awards 2022.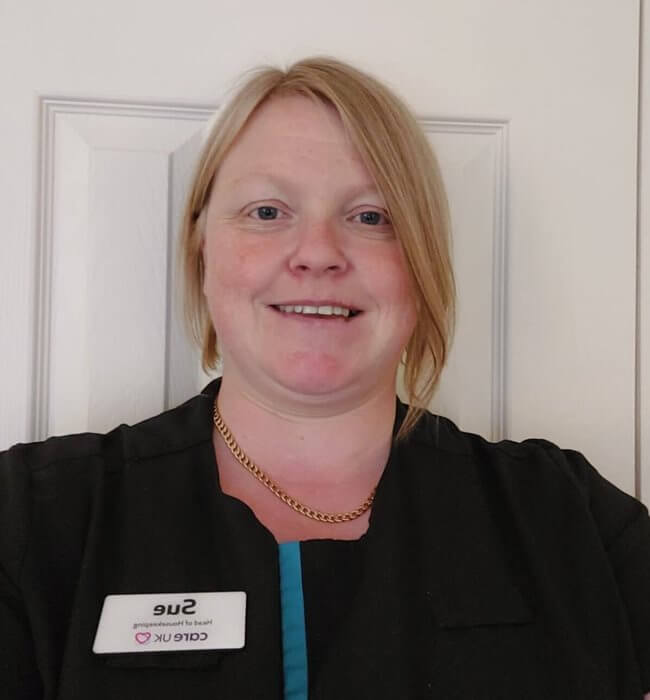 Sue led the home to success after being nominated for her determination to overcome the challenges created by the pandemic and continuing to provide an outstanding level of care for residents.
Sue leads a team of fifteen, who all take pride in delivering an exceptional service that is tailored to the individual needs and preferences of the 108 residents at Cranford Grange. This has included implementing aromatherapy natural essences within the cleaning products used in the home's Dementia Neighbourhood Suite.
In addition to her care towards the residents, Sue also ensures her team thrive in their roles, which, in turn, allows them to provide the best quality of care possible for the residents. Sue encourages her team to continue learning and provides regular infection control training with all team members to ensure the home remains COVID-secure.
Commenting on the award win, Sue said: "I'm incredibly proud to be shortlisted for this award. I'm very lucky to have such a strong team alongside me, and together we work hard to make Cranford Grange a fantastic place to live. Both the residents and the team make this a dream job to come to work to each day."
One resident said: "Nothing is too much trouble for Sue and her team, they are all super friendly and helpful. I moved into Cranford Grange three years ago and I wish I had done it sooner – that's all down to Sue and her team.
Lisa Burrows, Home Manager at Cranford Grange, said: "We are delighted to celebrate Sue making it to the finals. Sue lives and breathes Care UK's 'whole home' approach, chatting to residents as she cleans, making them tea, and even finding ways to make their wishes come true.
"Sue and her team always put the wellbeing and happiness of residents at the heart of everything they do, which has resulted in them all building fantastic relationships with the residents. Without Sue, Cranford Grange wouldn't be the place it is today."
The National Care Awards will take place on 26 November in London.
Designed to enable residents to live active and fulfilled lives, while also promoting independence, Cranford Grange, which remains open to potential residents, incorporates space for hobby and leisure activities. The home has been configured into a series of neighbourhoods to help facilitate the creation of close-knit communities and encourage social interaction among the residents.
For more information on Cranford Grange, please call Director of Community Relations, Dawn Williams on 01565 817553, or email dawn.williams@careuk.com.
For more general information, please go to careuk.com/cranford-grange.