Care UK's Suzanne Mumford, Head of Nursing, Care and Dementia Care, has received the prestigious The Queen Elizabeth the Queen Mother Award for Outstanding Service.
The accolade, more commonly known by the title of Queen's Nurse, was bestowed to Suzanne and other recipients during the Queen's Nursing Institute's ceremony on Monday 28 November.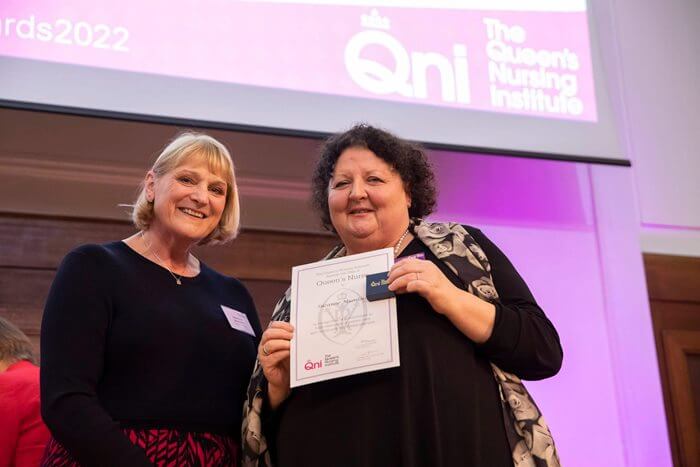 Suzanne was recognised for her constant innovation, something that she has continued to deliver in her role at Care UK, particularly in the practice of dementia care.
By her own admission, Suzanne "fell into nursing" when she was just 17 years old. Her first role was as a care assistant in a geriatric hospital where she quickly realised that nursing was the career for her and still maintains it's "the best job in the world."
After training in Southampton and specialising in neurology and neurosurgery, Suzanne discovered a love of teaching and coaching others, which has been a crucial component to her career overall. After running a training company specialising in healthcare, she initially joined Care UK in 2018 as Quality Development Manager and has since progressed to lead a new team under the direction of Rachel Gilbert, the organisation's Director of Care, Quality and Governance.
Suzanne credits the "constant innovation and drive" within the sector as her motivation. She is always looking for ways to improve the practice of dementia care and passes this passion onto the Approach to Care Team, which she leads. The most important thing, she says, is supporting people to achieve their potential: "It's about saying – this is what we're doing, but we can always do it better, so how do we make that happen?"
A large part of that process has been gathering and imparting knowledge within Care UK to ensure those living with dementia have compassionate and consistent care across the organisation. Having been a customer of Care UK herself, Suzanne has "seen it from both sides" and says that the experience of her parents having been residents informs everything she does.
Suzanne oversaw the implementation of a sector-leading initiative to help enrich the lives of those living with advanced dementia. The Namaste programme now runs across all Care UK homes to ensure those most impacted by dementia – between 12-13% of those living in our homes – receive a comforting, one-to-one sensory experience during dedicated sessions, which focus on their mental and physical wellbeing. As a result, residents have become more alert and communicative.
Another passion of Suzanne's is to decrease the use of psychotropic drugs in Care UK homes. These drugs are often prescribed for those living with dementia but can make patients feel sleepier and can increase the risk of falls. Nurses within our homes have now decreased their use of psychotropic drugs by 26% - this is possible due to ongoing professional practices, which allow our teams to identify and address the unmet needs of those living with dementia.
Under Suzanne's leadership, Care UK is launching a new academy for the training and development of their care home nurses, called the Seacole Academy for Care and Clinical Excellence. This gives nurses a programme within the organisation that formally recognises their professional commitment and development. In addition to this, it offers those who are team leaders or senior carers at Care UK homes the chance to train to be a nurse, or to step into a health care assistant role to continue supporting residents.
Rachel Gilbert, Director of Care, Quality and Governance at Care UK, said of the award: "Since her arrival at Care UK, Suzanne and I have worked together to ensure we continue to support and provide care in the very best way possible.
"Her compassion and her leadership means that colleagues at every level, and in many different roles, feel empowered to provide the best care possible for our residents. Those who live in our care homes are people who have lived rich, fulfilling lives and under Suzanne's innovative initiatives, they can continue to do so.
"The Care UK team are very proud of Suzanne's achievements, and I can't wait to see how she uses this accolade to continue support residents and to develop her colleagues within the organisation."
When asked if she had any words of wisdom to pass on to new or aspiring nurses, Suzanne said: "When you train as a nurse, you are there – and you should be there – as an inspiration to people. You should be role-modelling best practice and you should be inspiring other people in your field to be the best that they can be.
"You must be interested in people and in their wellbeing – both emotionally and physically. To do a nursing degree, as well as being interested in people, you have to feel like you can make a difference. Be kind, compassionate and be curious because there is so much learning to do.
She also praised the skills of care home nurses, adding: "Our nurses are so specialist – we are looking after people who are living with so many different conditions and who are at a point where they now need more support, even when they've been fantastically independent throughout their lives. In those circumstances, you have to want to be close to people and be a part of their lives, as well as being observant and an excellent communicator."
If you want to join Care UK and help those living in our homes to lead fulfilling lives, you can apply here.