A care home in Bury St Edmunds is celebrating after one of its team members was recognised at a national awards ceremony.
Tara Deacon, Maintenance/Bank Team Leader at Care UK's Davers Court, on Shakers Lane, was named 'Maintenance Person of the Year' in the Residential Care Services (RCS) Stars Awards.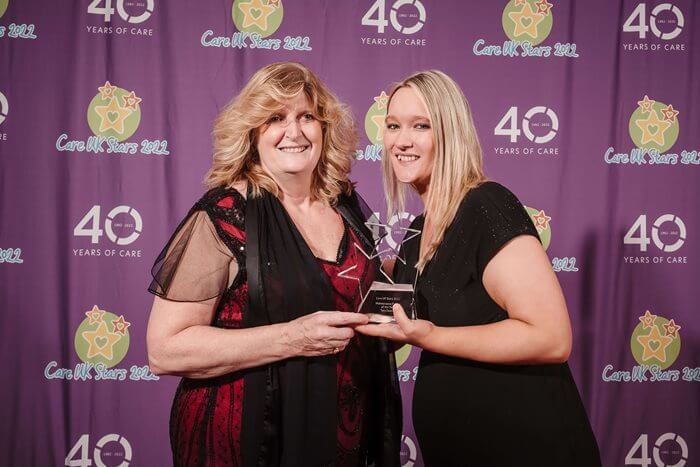 The awards recognise individual and team excellence at more than 150 care homes nationwide across Care UK's RCS division.
Tara was praised by the judges for going above and beyond in her role. In addition to making Davers Court a lovely place to live, she has capitalised on her previous experience working in construction to redecorate the home's café and residents' rooms.
A detailed-oriented member of the team, Tara has also been one of the driving forces behind the creation of a sensory garden in the home's grounds. Featuring fences newly painted using the residents' favourite colours, as well as flowers and vegetables, the place is now a firm favourite among both residents and team members.
Commenting on her win, Tara said: "I'm honoured to have won this award – it's a wonderful feeling to know that I'm helping to make Davers Court a great place for the residents to live."
Sally Shadbolt, Home Manager at Davers Court, said: "Tara is a wonderful asset to the Davers Court family and we're thrilled her commitment has been recognised.
"She is always looking for ways to improve the home which in turn helps enrich the lives of the residents – whether that's helping a resident paint their bedroom in their favourite colour or making a sensory garden to promote relaxation.
"I'd like to extend a big thank you to Tara and the whole team here at Davers Court for their hard work and dedication to enabling residents to lead fulfilling lives."
Davers Court is a modern care home which provides full-time residential, dementia and end-of-life care. Designed to enable its residents to live enjoyable and fulfilling lives, the care home has its very own cinema and hair salon, and there is plenty of space both in and outdoors for relaxation and recreation.
To find out more about Davers Court, please contact Customer Relations Manager, Chantal Sencier, on 01284 844640 or email chantal.sencier@careuk.com.
For general information, visit careuk.com/davers-court.