Residents at a care home in Ware have been enjoying some festive fun with local children.
Those at Care UK's Snowdrop House, on Baldock Street, welcomed children from Wolves Great Amwell Beavers for an afternoon of Christmas fun and games.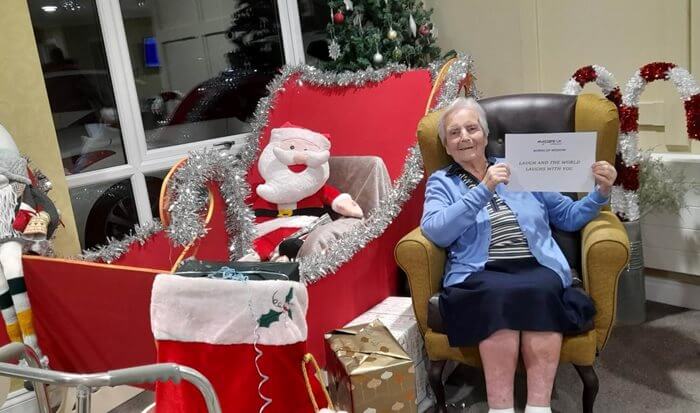 Getting into the festive spirit, residents and the children decorated cookies together and exchanged Christmas cards, before sitting down for some good old-fashioned carolling.
In among the festivities, residents also shared some valuable pieces of advice with the children as part of an intergenerational project – Wisdom Booths. 84-year-old resident, Hilary, advised: "smile – it brightens someone's day", while 89-year-old Pamela encouraged the youngsters to be mindful and "think before you speak".
Clare Crow, Home Manager at Snowdrop House, said: "We had a fantastic time getting into the Christmas spirit with children from Wolves Great Amwell Beavers.
"Here at Snowdrop House, we understand that intergenerational relationships have been proven to be enriching for all ages and can offer older people a sense of purpose. Taking part in activities and crafts together has provided a fantastic opportunity for both children and residents to learn from each other.
"Both the children and residents clearly enjoyed spending time together and we're already looking forward to welcoming the Wolves Great Amwell Beavers back for our next activity."
The activity was part of Care UK's Wisdom Booths initiative which sees homes across the UK share their advice with younger generations after a national survey found 88% of people nationwide are grateful for what they've been told by their elders and 56% will always rely on them for advice, regardless of how old they are.
For more information about Care UK's Wisdom Booths initiative, visit: careuk.com/wisdom-booths
Snowdrop House is a state-of-the-art care home which provides full-time residential, nursing, dementia and short-term respite care. The care home incorporates space for hobby and leisure activities and includes its own cinema, hair salon and café.
To find out more about the home, contact Customer Relations Manager at Snowdrop House, Sharon Butler, on sharon.butler@careuk.com or call 01920 897553
For more general information, please visit careuk.com/snowdrop-house