A resident at a care home in Stroud was thrilled when her wish to become the belle of the ball was made a reality.
70-year-old May Wells, who lives at Care UK's Scarlet House, on Westward Road, was given the VIP treatment to make her wish to 'become a theatre star' a reality.
May, who has learning difficulties, has been a resident at Scarlet House for six months and has always had dreams of fame – with her goals being to become either a movie star or to perform on the stage. When the lifestyle team learned of May's wish, they set about making her wish a reality – fairy godmother style.
Reaching out to The Sub Rooms, a local community arts centre, the team organised for May to watch a performance of the pantomime before heading on stage herself for a taste of fame, and to meet the cast of Cinderella in person.
After a shopping trip to choose her outfit, local hairdressers arrived at the home bright and early to give May a makeover for her special day before a chauffeur driven car arrived at the home to whisk her and her Scarlet House friends off to the theatre.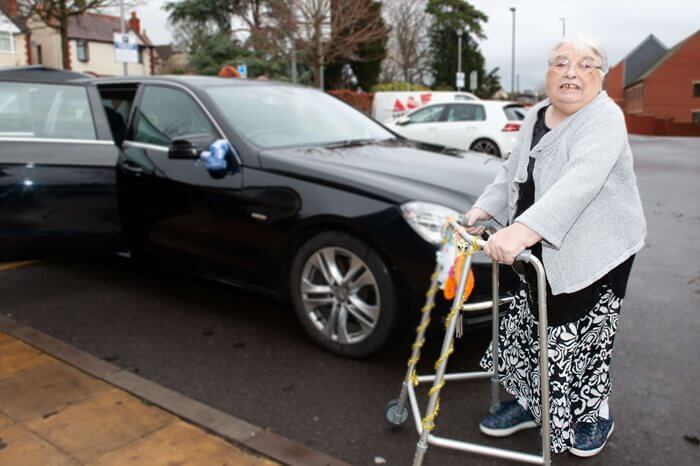 Speaking of her experience, May said: "I felt like a princess – a real superstar. I have loved every second and have a Cinderella wand as a souvenir too!"
The occasion was part of Scarlet House's Wishing Tree Initiative, which encourages residents to put wishes forward, allowing them to reconnect with a past hobby or try something completely new – from flying on a plane to enjoying a fish and chip supper, no wish is too big or small.
Lyndsey Dixon, Home Manager at Scarlet House, added: "Everyone at Scarlet House knows all about May's dreams of stardom – which is why we knew we had to make her wish to be on stage come true.
"The team at Scarlet House make it a priority to delve into resident's life stories, learn more about their passions and see how they can bring wishes to life to create new memories for residents and their families. It is wonderful to see how much these experiences mean for those living here, and important for us to show that it's never too late to achieve your dreams.
"It was a wonderful day for all involved, and to see May's beaming smile as she headed out on stage at the theatre was incredible. She will remember that moment for the rest of her life, and so will we."
Scarlet House is a state-of-the-art care home which provides full-time residential, nursing, dementia, nursing dementia and short-term respite care. The care home incorporates space for hobby and leisure activities and includes its own cinema, hair salon and café.
For more information on Scarlet House please call Customer Relations Manager, Katerina Pippi, on 0333 321 0932, or email katerina.pippi@careuk.com
For more general information, please go to careuk.com/scarlet-house