Residents at a local care home were given quite the surprise when some feathered friends swooped into their lounge.
Residents at Care UK's Halecroft Grange, on Hale Road, and members from the local community enjoyed a hoot of an afternoon getting up close with 6 birds of prey from the Vale Royal Falconry Centre.
Residents were amazed when a selection of birds, including barn and eagle owls, flew into the home. Alongside their friends and family, residents enjoyed being able to get up close to the beautiful birds, even holding them on their arms.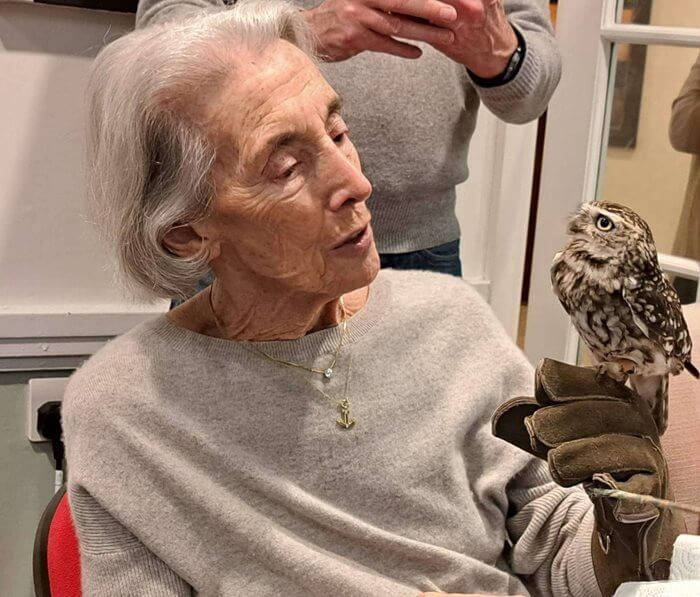 With the birds on full display, everyone enjoyed a talk by the Vale Royal Falconry Centre who taught everyone about their characteristics and food preferences.
The friendly and relaxed creatures, who are used to human contact, were brought into the home by Vale Royal Falconry Centre which is run by experienced professional falconers who have a passion for birds of prey, conservation and education.
Commenting on the afternoon, resident Geoffrey Yeo, said: "I had a wonderful afternoon with the owls. I loved them so much that the team took my photo and gave it to me as a framed photo which I now have in my room."
Suzi Sumegi, General Manager at Halecroft Grange, said: "Here at Halecroft Grange, we are always seeking new and exciting activities for residents to enjoy. Animal therapy has proven to be incredibly beneficial for older people, as it can often prompt conversations and have a calming effect.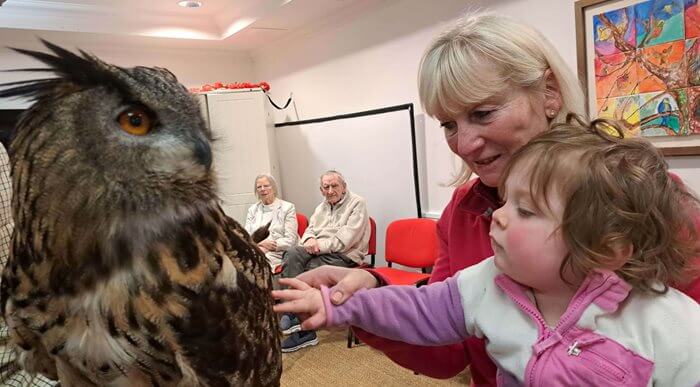 "Everyone loved meeting the owls and seeing the smile on the resident's faces was incredible. I'd like to say a huge thank you to the Vale Royal Falconry Centre for coming along for this memorable afternoon – everyone had a hoot!"
Designed to enable residents to live active and fulfilled lives, while also promoting independence, Halecroft Grange, which remains open to potential residents, incorporates space for hobby and leisure activities. The home has been configured into a series of neighbourhoods to help facilitate the creation of close-knit communities and encourage social interaction among the residents.
For more information on Halecroft Grange, please call Director of Community Relations, Sharon Parkes on 0161 532 5989, or email sharon.parkes@careuk.com
For more general information, please visit careuk.com/halecroft-grange