A team member in a Basingstoke care home has raised over £1,700 for a very good cause.
Sammi George, Lifestyle Lead at Care UK's Dashwood Manor, on Bradley Way, has raised the impressive amount for the charity Mind, a mental health charity in England and Wales offering information and advice to people with mental health problems.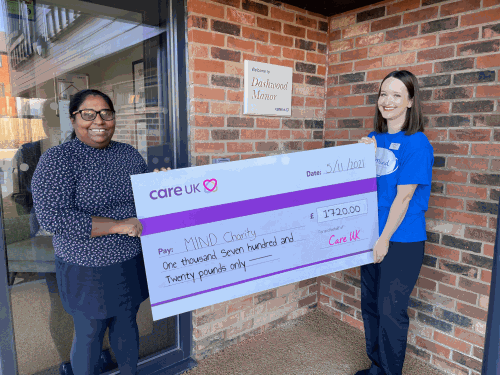 Sammi decided to coordinate a community-driven raffle to raise the vital funds and reached out to local businesses to see if they would like to support the initiative and donate items to be included.
In total 27 businesses put products and services forward for the raffle, which included restaurant vouchers, massages, facials, manicures, photo shoots, tasty treats, personalised items and even drumming lessons.
Selling the raffle tickets to the local community, Sammi raised a total of £820, and with support from Care UK's match funding initiative the grand total came to £1,720.
Sammi said: "I am really proud of how much we raised for such a deserving charity. I would like to thank the team at Dashwood Manor for supporting me and to Care UK for matching what we raised, increasing our total donation to over £1,700 - an incredible achievement!"
Dil Perera, Home Manager at Dashwood Manor, said: "We are thrilled with how much Sammi and the team has raised for Mind. Her hard work and determination have certainly paid off.
"We understand that charities such as Mind need support now more than ever before to ensure they can continue their fantastic work helping people, and I'm pleased we're able to help.
"Here at Dashwood Manor, we love raising funds for local charities and providing support for those within our community. We are very much looking forward to raising more money for charities in the local area."
Designed to enable residents to live active and fulfilled lives, while also promoting independence, the new care home, which opened earlier this year, will incorporate space for hobby and leisure activities. Luxury facilities will include a café, hair and beauty salon, cinema and bar, and stunning gardens.
To find out more about Dashwood Manor, please call Customer Relations Manager, Leahanne Wilkinson, on 01256 805988, or email Leahanne.Wilkinson@careuk.com.
For more information about Dashwood Manor, visit: careuk.com/Dashwood-Manor.