A care home in Sway is celebrating after being shortlisted in the Care Home Awards 2022.
Care UK's Sway Place, formerly known as Gracewell of Sway, has been shortlisted in the 'Best for Wellbeing' category, which recognises the care experienced by residents to be impressively person-centred.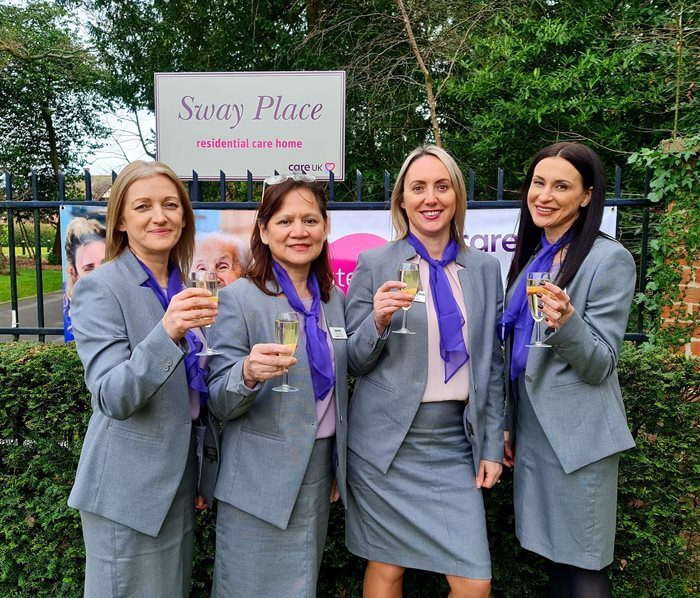 The Care Home Awards highlight and reward excellence and innovation in UK care home management, operation and delivery. The winners will be announced at the annual awards ceremony in July.
The team at Sway Place has been recognised for its resident led approach to care. This approach includes, a forum held at the start of each new season, where the team and residents get together to discuss ideas for the coming months.
An activities plan is created with an exciting range of options for residents to enjoy each day of the week. These include everything from art and crafts, minibus outings, poetry talks, village walks, exercise classes, reminiscence exercises, gardening, music, and even croquet.
Dedicated to fulfilling lives, when resident Colin wished to continue woodworking when he moved into the home, the team helped to create his very own workshop. Colin now gives talks and makes bird boxes for charity, and has inspired other residents to get involved – to the point that a bigger work shed is needed.
Colin has also been supported to raise £3,000 for charity and to become the home's Resident Ambassador, attending meetings and colleague recruitment interviews, and acting as the voice of residents. He cleans cars, walks colleagues' dogs – he loves keeping busy and the team make sure to support him.
Colin said: "The team are attentive, compassionate, and treat me with respect. They're always friendly and smiling and go out of their way to offer any support. I'm delighted to call this my home. It's an amazing place to live where I continue to lead an active and fulfilled life."
It was also noted that the home team constantly looks to improve and innovate its approach to wellbeing. During the pandemic the team got more creative, and a highlight of 2021 was a 12-week 'world trip' where residents and colleagues 'travelled' virtually to a new country each week, including France, where everyone enjoyed French food, music, dress, and traditions.
The team at Sway Place has also been celebrated for their determination to get to know each resident as well as possible, including their hobbies, interests, skills and life history, as well as the things they would enjoy now.
One gentleman wanted to learn how to play the guitar, so one of the activities team gave him weekly lessons. The resident enjoyed his lessons and talks happily about it to his family when they visit. It's given him a huge boost and enhanced his self-esteem.
A relative commented: "From day one the team welcomed and encouraged him to join in. They soon realised which activities he enjoyed and adapted things so he could participate. The variety and seasonal additions mean there is always something new – they even added dominoes when they found out it was a past hobby of his.
"My dad has settled better than I could have hoped for, and I have no doubt that the activities and outstanding support of the team has been a huge help. They give him focus and added structure to his routine. There is nothing I like more than when he tells me he hasn't had a chance to call as he has had a busy day at crossword club, bingo, or art club."
Rachel Bedford, General Manager at Sway Place, said: "We are thrilled to have been shortlisted in the 'Best for Wellbeing' category at this years' Care Home Awards for our approach to person-focused approach to care.
"Being shortlisted is testament to the team's hard work and innovative thinking to ensure every resident leads a happy and fulfilling life. It is truly wonderful to observe the team creating activities and plans that are specially tailored to each individual resident and then seeing the residents thrive and grow in confidence. I'm thrilled Sway Place has been recognised for the difference they make each day to residents' wellbeing through thoughtful care.
"We'd like to wish everyone shortlisted good luck – we have our fingers crossed for the final in July!"
Designed to enable residents to live active and fulfilled lives, while also promoting independence, Sway Place, which remains open to potential residents, incorporates space for hobby and leisure activities. The home provides full-time residential care, dementia care and respite care. The layout of the building is configured into a series of individual suites, and 14 independent living cottages, each having a dedicated lounge/dining room to help facilitate the creation of close-knit communities.
To find out more about Sway Place, please call Laura Blake, Home Admissions Advisor, on 01590 607371, email laura.blake@careuk.com or visit careuk.com/sway-place.