A care home team member in Chelmsford is celebrating after they were recognised at a national awards ceremony.
Karla Smith, Senior Business Administrator at Care UK's Manor Lodge, on Manor Road, was awarded first place for 'Administrator of the Year' in the Residential Care Services (RCS) Stars Awards.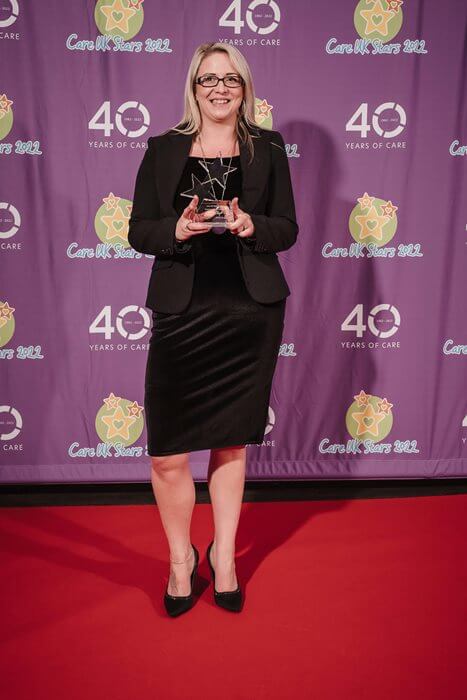 The awards recognise individual and team excellence at more than 150 care homes nationwide across Care UK's RCS division.
The 'Administrator of the Year' award celebrates individuals who play a key role in the smooth running of the home, especially providing excellent service to residents, relatives, and visitors.
Karla was recognised for her extraordinary efforts to treat everyone with kindness and empathy, being hailed by colleagues as a great motivator and mentor. Always three steps ahead, Karla goes out of her way to ensure the home – one of Care UK's largest – runs smoothly.
Commenting on her win, Karla said: "I feel really honoured to have won this award – I always do my best to make sure the team feel as supported as possible so it's rewarding to have that recognised.
"It's incredibly important to me that, no matter what, I do my best to help in any way I can to make sure the home runs as smoothly as possible for the team, residents and visitors.
Juliana Miles, Home Manager at Manor Lodge, said: "Karla is an integral part of the Manor Lodge family and we're thrilled her commitment has been recognised at the RCS Awards.
"She consistently goes above and beyond the expectations of her role, helping wherever possible – whether that's in HR, supporting the leadership team, arranging training or prioritising the welfare of other colleagues. Karla is loved by the team and residents alike for her friendly and supportive nature.
"I'd like to extend a big thank you to Karla and the whole team here at Manor Lodge for their hard work and dedication to making the home a great and welcoming place to live."
Manor Lodge is a modern care home which provides full-time residential, dementia nursing and short-term respite care. Designed to enable its residents to live enjoyable and fulfilling lives, the care home has its very own cinema and hair salon, and there is plenty of space both in and outdoors for relaxation and recreation.
To find out more about Manor Lodge, please call Home Manager, Juliana Miles on 01245 960 903 or email Juliana.miles@careuk.com
For general information about Care UK, please visit careuk.com/manor-lodge