Three care homes located in Ipswich and Framlingham are celebrating after taking home a whole host of regional awards.
The housekeeping team at Care UK's Asterbury Place, on Aster Road, was named 'Team of the Year' at the Suffolk Care Awards. Julie Mee, from Mills Meadow, in Framlingham, took home 'Apprentice of the Year', while Jennie Rodger, from Prince George House, also in Ipswich, won in the 'Inspirational Leadership' category. Caroline Ramsey, from Asterbury Place was also recognised for Having Fun in Adversity and Frances Larke, a runner up in the Volunteer and Community Actions category.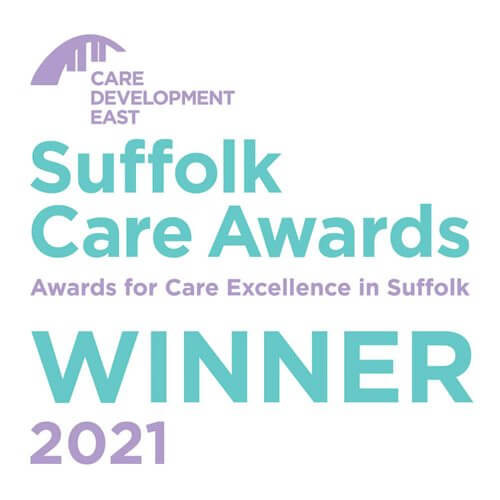 The Suffolk Care Awards recognise and celebrate the work of colleagues and organisations who provide high quality care in Suffolk's health and social care sector. Following the pandemic, the awards have focused on individuals and care organisations that have supported the wider community throughout the last nineteen months, and who are continuing to help vulnerable members navigate back to some sense of normality.
The housekeeping team at Asterbury Place were recognised for going above and beyond normal service requirements to make a positive impact on the care home. Head Housekeeper, Lenny Paul, leads a team of ten who were praised for working together to make a difference to resident's lives. For example, when the home's covid-safe visiting suites were created, the housekeeping team worked hard to ensure they were as welcoming as possible for loved ones – adding inspirational pictures and decoration to make sure the suite felt homely.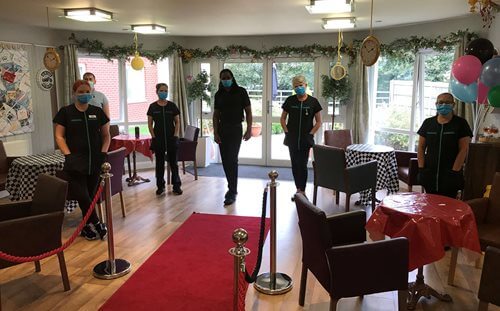 Christine da Silva, Home Manager at Asterbury Place, said: "I am so proud of the housekeeping team here at Asterbury Place – not only do they do an incredible job keeping the whole home spick and span but, like all my team, they make sure residents have a happy and fulfilled life.
"Whether it's stopping for a chat and a cup of tea or arranging a Remembrance Day trip to a war museum for a veteran, nothing is too much trouble. I am so pleased that Care Development East have recognised how amazing they all are with this award which now has pride of place in our reception area."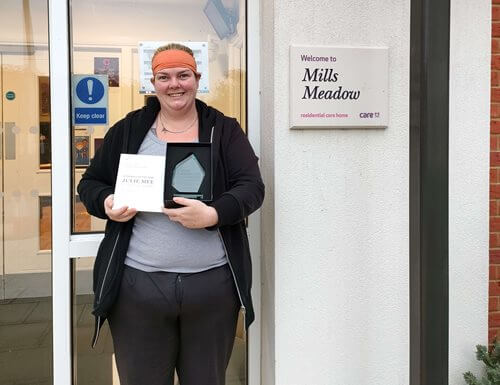 Julie Mee, from Mills Meadow, joined the team as a newly trained apprentice carer in July 2020. In a short space of time, she has become well-loved by residents, relatives and colleagues alike, and leads with innovation. For example, one of the residents in Julie's care, who lives with dementia, was previously a businessman who spent a lot of time in hotels. When agitated, Julie would adapt her language and tell the gentleman she was taking his clothes to the hotel laundry, ready for his meeting the next day. As a result, his mood and behaviour significantly improved, which meant the team were more easily able to introduce routines and activities for his wider benefit.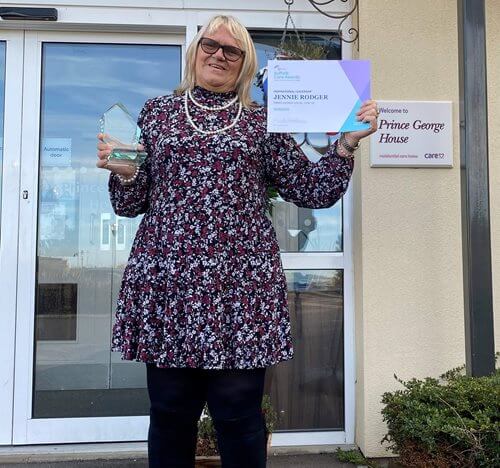 Jennie Rodger's inspirational leadership at Prince George House was also highlighted, with judges commending her adaptability, courage and focus during the pandemic, which saw the home locked down two weeks before Care UK asked them to in 2020, with a plan already in place to minimise contact between team members and residents.
Despite this, the home was hit by the virus twice, however Jennie had the foresight to over-recruit, ensuring no agency colleagues were required. While no in-person contact with relatives was allowed at this point, Jennie purchased new mobile phones, and formulated a plan to prioritise remote contact between residents and their loved ones.
As the home was hit by a second wave in late 2020, Jennie was diagnosed with a clot on her lung and a heart condition – giving her every reason to shield at home. Jennie put her health on the line and continued to work, often on the floor supporting the care team to ensure both colleagues and residents continued to have leadership and support that is second to none.
Commenting on the win, Jennie Rodger, Home Manager at Prince George House, said: "I am thrilled to have been named as the winner of the 'Inspirational Leadership' category. The last year has certainly had its challenges, both personally and professionally, but the team has gone above and beyond to maintain as much normality as possible for residents.
"I'm very lucky to have such a strong team alongside me, and together we work hard to make Prince George House a fantastic place to live. Both the residents and the team make this a dream job to come to work to each and every day."
For more information about Care UK's care homes in Suffolk, please visit careuk.com/care-homes/locations/suffolk.