Residents in Care UK homes across the UK have been getting in the festive spirit this year, taking part in the much-anticipated, annual Care UK Christmas Cake Competition.
Each year, as the weather gets chillier, we start to don our hats and scarves, and everyone is pondering the same question: is it too early to put the Christmas tree up? There are a few tell-tale signs that the festivities are coming.
The first spotting of the emblematic Coca-Cola red lorry, Aldi's Kevin the Carrot and the British Airways teddies are just a few of the classic adverts that let us know Christmas is approaching, and this year at Care UK, these were to be the inspiration for the competition.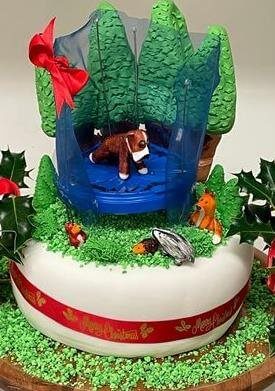 Inspired by iconic Christmas adverts of recent years, residents, along with homes' lifestyle teams and chefs, wowed the judges with their creations. Spoilt for choice with a range of incredible entries, joint third place was awarded to the teams at Brook Court care home in Kidderminster, and Snowdrop House in Ware for their remaking of John Lewis Christmas adverts. Residents and colleagues at Brook Court modelled the famous trampolining dog from fondant icing, surrounded by woodland and forest animals.
Meanwhile, the team at Snowdrop House decided to base their cake on the tear-jerking 'Man on the Moon' advert of 2015. Covering their delicious Christmas cake with galaxy-themed icing and adorning with star decorations, the fondant gentleman (perched on his armchair and surrounded by presents) was – literally – the icing on the cake!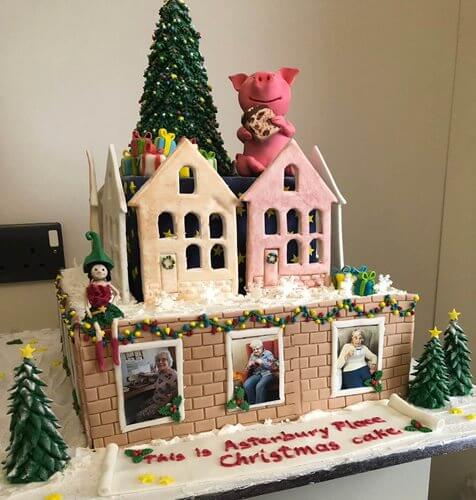 Coming in second was the creative team at Asterbury Place care home in Ipswich, who created a cake inspired by well-known store Marks & Spencer. This showstopper incorporated tasty biscuits that fashioned the store walls, a fondant elf on the shelf and intricate icing detail on the Christmas tree and string lights. Photos of residents enjoying Christmas activities can even be seen through the store windows. However, the judges were most impressed with the giant pink pig, sat on the store's roof!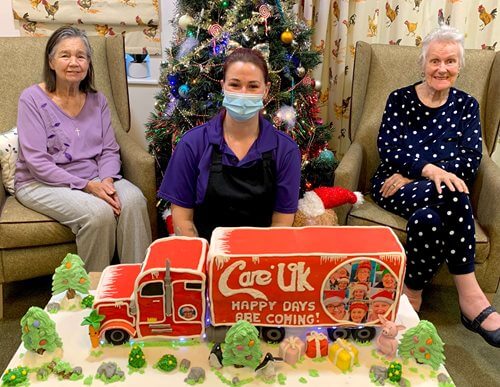 And taking a well-deserved first place in this year's competition were residents at Highmarket House care home in Banbury, with their recreation of the iconic Coca-Cola Christmas lorry. This impressive design included icicle detailing, along with festive photos of residents, and was surrounded by famous Christmas advert characters from a whole range of different retailers.
Judges were also impressed by the Caledonian Court's Irn Bru advert-themed cake, which was Irn Bru flavoured to reflect their Falkirk location. Special mention was also given to residents at Gracewell of Edgbaston and Gracewell of Church Crookham, now part of the Care UK family, for their spectacular gingerbread houses, created as part of a reminiscence exercise to bring back happy memories for residents.
One of the judges, Care UK's Hotel Services Manager Andrew Mussett, commented "I would like to congratulate everyone that took part, and hope the residents, lifestyle and catering teams had as much fun making and eating them as I had judging them – every year their imagination and creativity blows me away."