Care homes from across the country had rainbow flags in hand when they joined the parade to celebrate Birmingham Pride.
Teams from ten Care UK homes from across the country – from Metchley Manor in Edgbaston to Cedrus House in Suffolk and Sandfields in Cheltenham – including over 30 team members, took part in the parade to show their support for the LGBTQ+ community.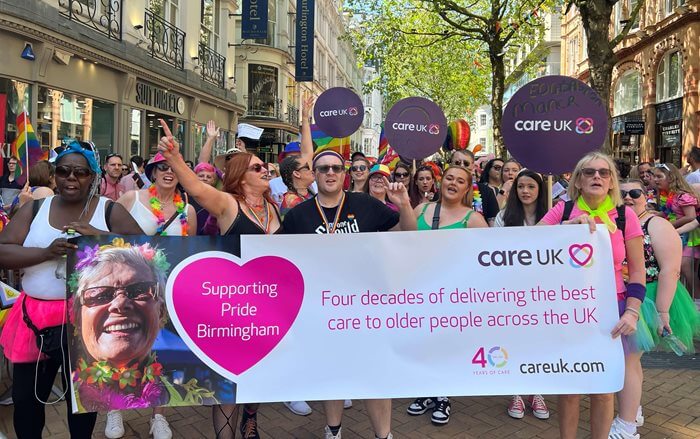 Care UK homes have been long-time supporters of London Pride, but this is the first year they've joined the parade for Birmingham Pride which is celebrating its 25th anniversary.
The Metchley Manor team, based in Edgbaston, had an amazing time and kept the celebrations going by hosting their own Pride event at home. The team welcomed Drag Queen Hazel Nuts to join them. Metchley Manor's catering team also put together a Pride buffet including rainbow cupcakes.
Callum, a team member at Cedrus House, who travelled from Suffolk to join colleagues in the parade, said: "It was the first time I had felt comfortable with myself."
Nicky Cahill, Regional Director for Care UK's North Midlands homes, said: "Equality and diversity is at the heart of all our Care UK homes, and we were thrilled to have over 30 team members representing us all at this wonderful celebration of love and community.
"It was fantastic to have team members from as far afield as Suffolk, as well as our homes from across the Midlands, represented in this year's Pride celebrations. I want to thank everyone who came to the event to show their support – it was a wonderful day!"
Care UK launched its official LGBT+ Network in 2018, which aims to provide training and guidance to Care UK team members on LGBT+ related issues, as well as develop an open culture in every care home.
Ten Care UK homes took part in the parade, including: Asterbury Place, Blossomfield Grange, Brook Court, Cedrus House, Chandler Court, Edgbaston Manor, Foxland Grange, Metchley Manor, Perry Manor, and Sandfields.
To find out more about Care UK, please visit careuk.com