From Edinburgh to Bournemouth, Care UK care homes across the country have been celebrating the organisation's 40th anniversary by raising funds for good causes.
To celebrate forty years since the provider opened its first home, Haven Lodge in September 1982, the Care UK family set a goal of raising £40,000 for charities across the UK, in a campaign called '40 Days of Giving Back'.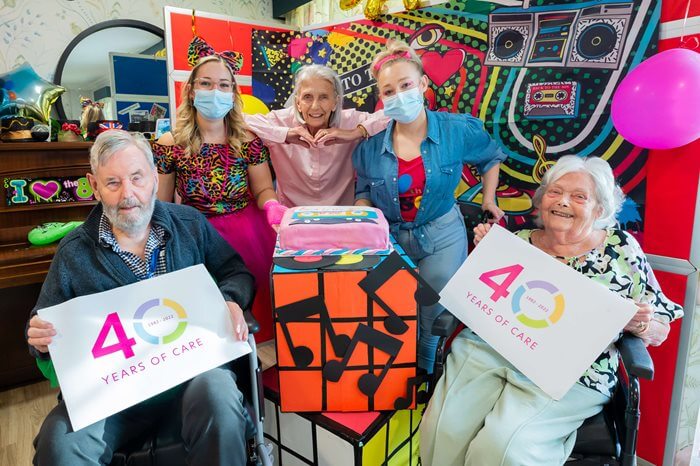 Team members across the country organised daring challenges and fun events, from abseiling down the O2 Stadium, community cake sales, musical events and even a 400-mile cycle ride.
In Epsom, Surrey, Appleby House welcomed the local community to its garden for an evening of live music from local performers, James Schouten, Barbara Christopher and Darren Watkins, who each sang decade spanning hits for all ages to enjoy. The event raised £877, which has been donated to Musical Memories, a local charity which holds weekly musical services for people living with memory and hearing impairments.
Elizabeth Lodge in Enfield raised more than £1,800 for St Clare Hospice in Harlow, after team members grabbed the ropes to abseil down The O2 Stadium. Staying firmly on the ground, residents opted to grab a sponge and a bucket to take part in a community car wash.
Keen to pull their shell suits and shoulder pads out of their wardrobes, residents and team members at Lonsdale Mews in Quorn, Leicestershire, and Lennox House in Islington, time travelled back to 1982 to throw eighties inspired parties, where the local community enjoyed a live music with pop classics from the decade.
Residents and team members at Armstrong House, in Gateshead, decided to step up to the challenge by walking 40 miles in 40 days and raised £325 for Big Local Gateshead. Zimmer frames and wheelchairs were no obstacle for the residents, with some reaching as far as the historical landmark, the Dunston Staiths, and Newcastle's St. James' Park Stadium, discovering all the local hot spots along the way.
Joining the homes in their fundraising efforts was Care UK's head office team, including CEO Andrew Knight, who undertook a 400-mile bike ride with fellow directors, Tony Weedon and Jacqui White. The route took a total of five days and saw the team cycle from the Care UK's oldest home, Haven Lodge, in Clacton-on-Sea, to the newest, Oxbow Manor, which will open in Shrewsbury in January. The team visited 17 other Care UK homes along the way, receiving warm welcomes from colleagues and residents alike.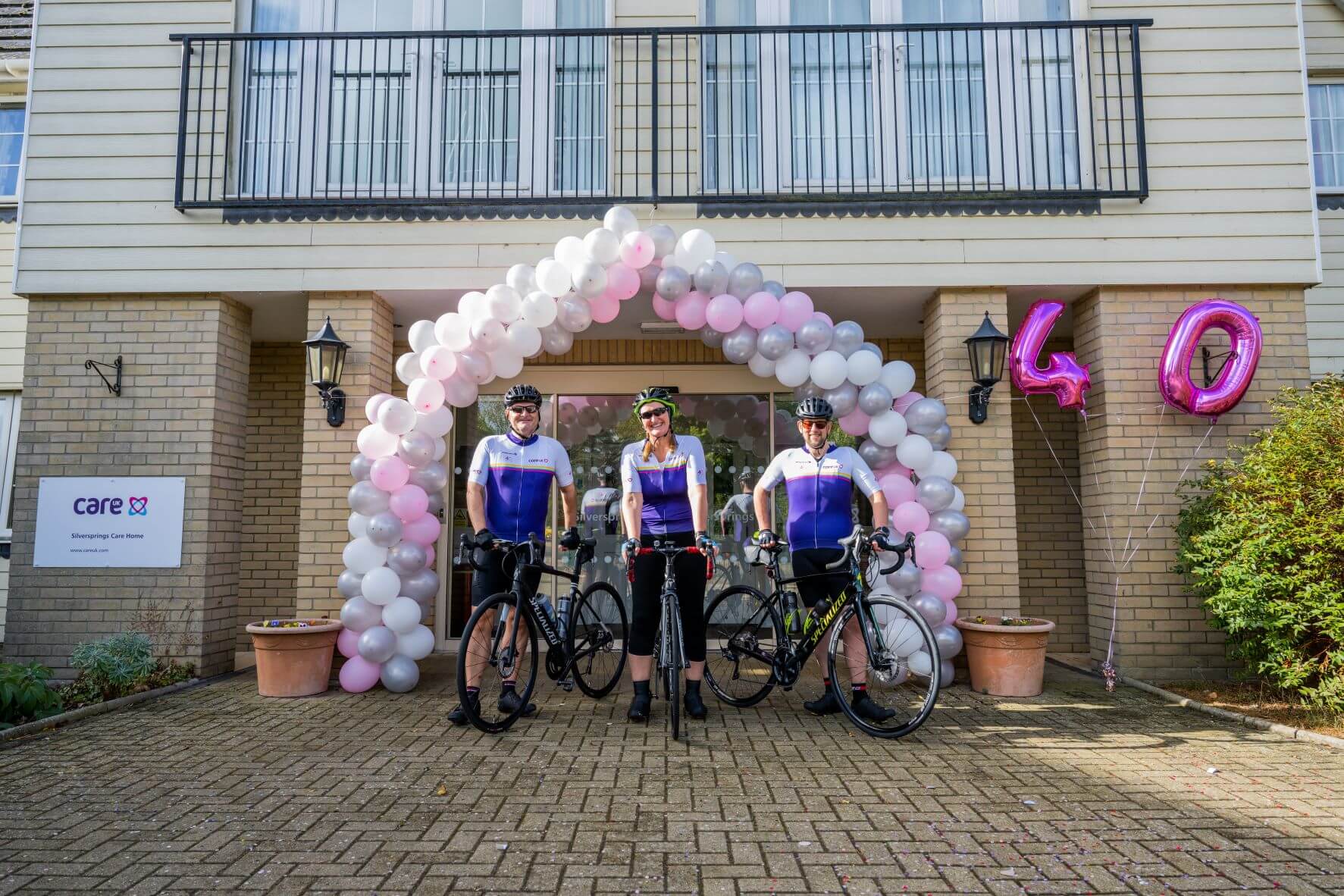 Inspired by the 400-mile cycle, residents, and team members at Silversprings walked a combined total of 40km, just short of a marathon, as well as holding a 40-day knit-a-thon, to raise £180 for Brightlingsea Museum and Brightlingsea Lido.
To mark the occasion, the facilities team at Tippethill House Hospital in Armadale, Scotland, organised an amazing fun day for residents and relatives which included 60 raffle prizes, home baking and tombola stalls along with live Facebook auction. They raised a whopping £3,260 for local charity, The League of Friends.
In the Midlands, residents at Sway Place, in Hampshire, were joined by families and members of the Sway community for a day spent traveling through time back to the 1940s. The home's Memories Matter fundraising event featured 1940's classic cars, a traditional sweet shop and live music from local singers, Soda Pops, who delighted guests with songs from throughout the decades. The event raised £1,648 for Alzheimer's Research UK, the leading dementia research organisation in the UK.
Commenting on the fundraising efforts, Andrew Knight, CEO of Care UK, said: "We're incredibly proud of all we have achieved at Care UK in the last 40 years, all thanks to the caring, hard-working team members and the support of residents and their families. I'm delighted with the fantastic amount we've raised for good causes across the country and am grateful to everyone who embraced this initiative with such enthusiasm. We are all looking forward to seeing what the next 40 years will bring for Care UK.
Care UK is one of the largest providers of residential care for older people. As a well-established organisation with 40 years of experience in caring for older people, the provider now runs more than 150 homes offering residential, dementia and nursing care and expects to open at least 13 more before the end of 2025.