A care home in Framlingham was joined by its nine neighbouring Suffolk homes and a VIP guest to celebrate a very special milestone.
The Care UK team at Mills Meadow, on Fore Street, pulled out all the stops for a joint birthday bash, complete with a visit from Councillor Stephen Burroughes from the Suffolk Council, to mark ten years since the Suffolk homes joined Care UK.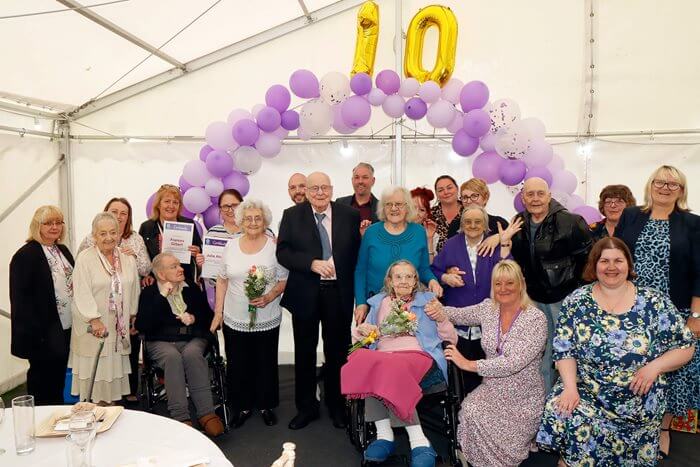 Toasting to their tenth Care UK anniversary, residents and team members from Asterbury Place, Britten Court, Cedrus House, Cleves Place, Davers Court, Glastonbury Court, Hartismere Place, Mildenhall Lodge, Mills Meadow and Prince George House, all joined the festivities in the sunshine with a glass of bubbly and slice of birthday cake.
Guests had the opportunity to dance and sing-along to live music from resident Maureen Game from Davers Court, showcasing her vocal skills.
After spending weeks preparing for the big celebration, with residents competing for the best designed invitation, best table centerpiece and the chefs competing in a 'cake-off', the winners were named during an awards ceremony at the event and presented with prizes.
Working together with the Suffolk council, the Suffolk homes also host an annual sports day, with residents and team members taking part in
Ivan, a resident at Asterbury Place, said: "I enjoyed the whole event – the award ceremony was fantastic with lots of celebrating all round. I'd also like to mention the food was fantastic too!"
Pedro Campos, Home Manager at Mills Meadow, said: "It was fantastic to see residents and team members from our Suffolk family enjoy a wonderful get-together and live music as we all celebrated the Suffolk homes' milestone anniversary.
"The whole Suffolk team, in particular the Cedrus House team and Home Manager, Sharlene Van Tonder, worked hard to organise the special event, and I am delighted to say their efforts were a huge success – our birthday party will definitely be one to remember for years to come. I would like to say a big thank you to everyone who makes Mills Meadow an amazing place to call home, and for helping to make the day extra special.
"It's been a wonderful decade for our Suffolk homes. We've welcomed some real characters to the homes, built long-lasting relationships with our neighbours and hosted countless themed days – from marking special milestones and birthdays, hosting our annual Suffolk sports day with the Suffolk council, to celebrating the King's coronation with street parties.
"We're very excited to see what's in store for the next decade and beyond!"
Mills Meadow care home is designed to deliver the very best standards of care, and to enable residents to live active and fulfilled lives. The home offers a range of services including residential care, specialist dementia care and respite care.
For more information about Mills Meadow contact Home Manager, Rebecca Calver, on 01728 885616, or email rebecca.calver@careuk.com
For general information please visit: careuk.com/mills-meadow