Residents in Care UK homes have been taking part in some unusual forms of exercise as part of a seasonal get fit campaign featuring The Green Goddess.
The 'Let's Get Physical' initiative sees teams in Care UK homes across the country encourage residents to take care of their physical health by trying something new and exciting – whether that be a seated ballet class, disco yoga or even taking a trip down memory lane for a very special 1980s inspired workout.
As part of the project, Care UK has partnered with popular 80s fitness star, Diana Moran, the Green Goddess, best known for hosting 'wake up and shape up' on breakfast television in her trademark green leotard. Diana created some bespoke exercise videos for residents and recorded an inspirational video encouraging everyone to take exercise.
Commenting on the partnership, Diana Moran, said: "I am delighted to support Care UK to encourage residents across the country to get active by trying something new.
"Regardless of age, keeping active is what keeps us young. Whether it's walking a little further on your everyday stroll, or exercising a little longer, every day brings a new possibility. Even for those less mobile, chair-based exercises can be just as beneficial. Nothing should get in the way of you being the best version of you!"
Residents at Dashwood Manor, Mountfitchet House and Smyth Lodge dug out their sweatbands and neon legwarmers from the back of their wardrobes and warmed up for the official Care UK and Green Goddess workout, which included seated leg raises, arm reaches and neck circles.
Residents and team members at Halecroft Grange care home opted to bring Bollywood to Hale Barns with a dance class led by professional Bollywood teacher, Ambur Khan. Several other home teams have also turned to dance as their chosen activity, including residents at Salisbury Manor, who have been 'dosey-doeing' at regular line dancing classes.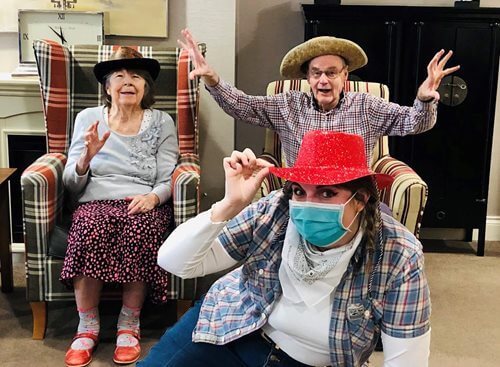 Carol Brewster, Home Admissions Advisor at Salisbury Manor, said: "We had a fantastic time taking part in our special line dancing sessions here at Salisbury Manor.
"We are constantly looking for new and exciting ways to encourage residents to lead active and fulfilling lives, and with many residents enjoying dance, we thought line dancing seemed like a perfect activity.
"Line dancing is a great form of exercise for older people, helping to improve strength and muscle function, increase balance and flexibility, as well as supporting cardiovascular and heart health.
"Judging by the smiles on everyone's faces, the dancing was a hit – we are looking forward to continuing the sessions throughout 2022. Who knows, we may have the next strictly come dancing winner in our midst!"
Music and movement can support everyone to improve balance and co-ordination in a fun, inviting way, which is why residents at Llys Cyncoed and Pear Tree Court have both enjoyed seated ballet lessons from local dance teachers.
Residents at Metchley Manor have also been embracing the 80s with a Flashdance inspired workout – what a feeling indeed!
At Bickerton House residents have taken part in some knock-out activities by hosting their very own Boxercise class, complete with gloves and gowns.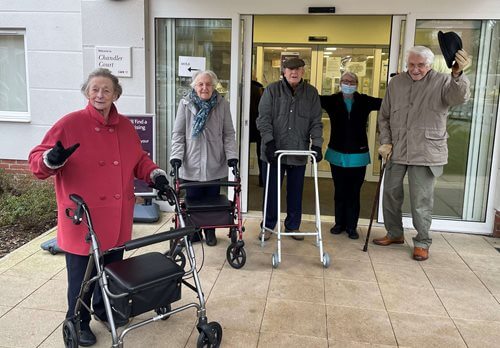 Heathlands House residents have taken on the newest fitness craze - 'Noodlecise'. This brand-new type of workout uses pool noodles in a variety of ways to build flexibility and strength, all while listening to high-energy music to help motivate movement.
Inspired by the Tour de France, Amherst House took part in a very special event – the 'Tour de Horley'. Also getting on their bikes, residents at Ancasta Grove enjoyed a virtual cycle trip through Southampton, while Perry Manor raised funds for a local charity with its sponsored cycle ride.
To find out more about the Let's Get Physical initiative, including Care UK's partnership with the Green Goddess, and for more top tips on how you and your loved ones can get involved at home, visit this page.