Residents in Care UK homes across the UK have been turning the pages on classic children's tales to ensure children get the perfect bedtime story.
The 'Bedtime Stories' initiative sees residents read much-loved bedtime stories to children in their local area. The campaign, which was launched to celebrate National Storytelling Week, ensures children who may not have a grandparent do not miss out on a magical tale told by a wise voice of experience.
After practicing their lines and perfecting their characters' voices, residents from Edinburgh to Poole have been visiting their local libraries and welcoming school children into their homes to host reading sessions. Keen to learn more about what inspired some of literature's most famous children's tales, residents have also been visiting places on their doorstep that sparked the inspiration behind some of the most famous childhood tales.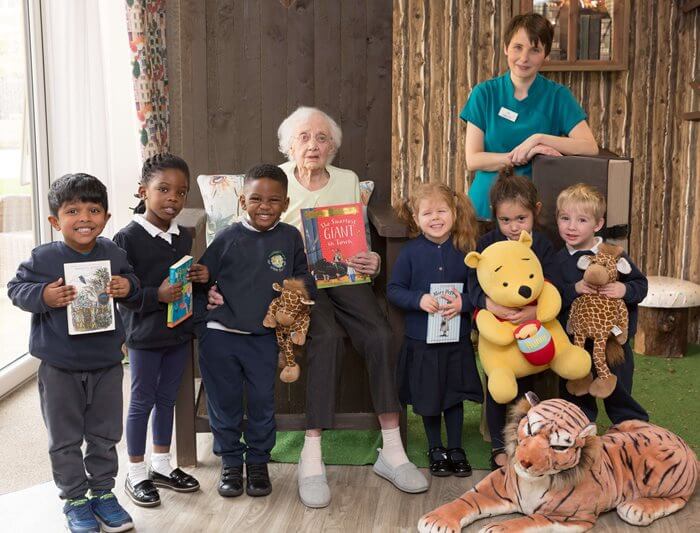 At Invicta Court, in Maidstone, the home's Maintenance Manager, Brian Thornton, created an impressive six-foot-tall reading throne, perfect for residents to read The Smartest Giant in Town by Julia Donaldson to local primary school pupils. The throne and display took weeks to build and was made from recycled materials. To ensure everyone felt as mighty as the smartest giant himself, the children took it in turns to read in the handcrafted chair.
Commenting on the afternoon, resident, Mary Savage, aged 94, said: "This was a wonderful afternoon that took me back to when I read to my children over 70 years ago. At six foot high, the reading chair was taller than me – my feet didn't reach the floor!"
At Cavell Court, in Cringleford, residents created videos of themselves reading famous children's stories for youngsters. Residents took to the home's lounge where the team had created a special storytelling corner. Equipped with blankets, puppets, cuddly toys, and a good cup of tea, residents filmed their special stories.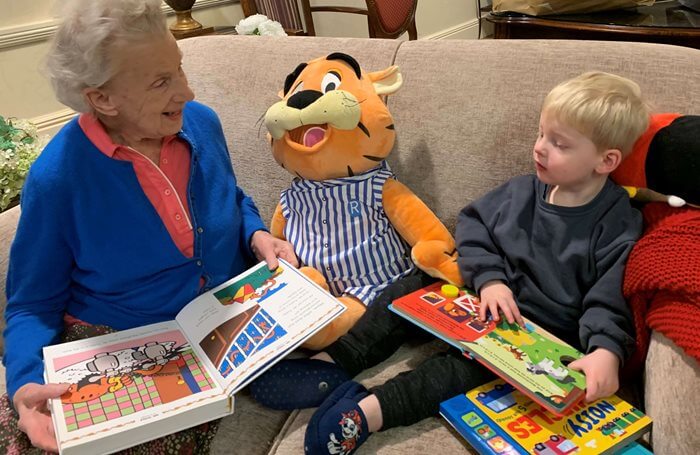 In Mobberley, at Cranford Grange, 91-year-old resident, Margaret McKinlay, a former English teacher, read Mr Happy to two-year-old, George Daine, a grandson of one of the team. Commenting on the afternoon, Margaret said: "My passion has always been English literature, and having not taught for a number of years, it brought back so many fond memories of my time spent teaching."
At Winchcombe Place, residents chose to read Paddington Bear as the book has strong connections to the area as the author, Michael Bond, was born in Newbury. To help prepare, residents also took a day trip to Paddington Station, in London, to immerse themselves in the life of the famous bear. Residents, Alma Deaking, aged 88, and Helga Patrikios, aged 85, read the tale of the famous bear to children from Happy Kids Pre-School as they listened eagerly.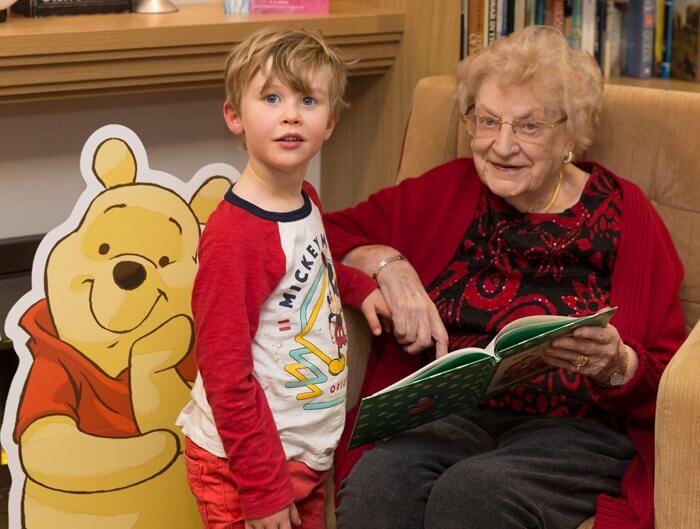 In Sevenoaks, residents at Weald Heights celebrated Winnie the Pooh Day by welcoming children from Oakley Day Nursery for a special retelling of A.A Milne's well-known tale. As well as practicing their best character voices, residents and team members went a step further to get into character, and wore costumes, including Winnie, Tigger, and Eeyore, for the children to enjoy. To finish the afternoon, all of the children left with a copy of Winnie the Pooh.
Finally, in Edinburgh, residents at Lauder Lodge were joined by local storyteller, Claire McNicol, from the Scottish Storytelling Centre, who read Scottish folklore tales by Robert Burns to residents and team members' children. Commenting on the afternoon, resident Margo said: "It was wonderful to hear some traditional stories – with such an enthusiastic storyteller, we loved it."