Following a 10-year transformation project, Care UK has been shortlisted for two prestigious national awards – LaingBuisson Residential Care Provider of the Year and LaingBuisson Property Developer of the Year.
Care UK has fought off stiff competition to reach this stage in the awards, which this year have a record number of entries.
Care UK's commitment to quality, engagement and growth makes it a strong contender for the LaingBuisson Residential Care Provider of the Year award. Its regulator ratings have improved by 34 per cent since 2016 and it operates more homes with an CQC rating from the CQC than any of the other larger providers in the UK.
Key to the provision of outstanding care is the engagement and satisfaction of the organisation's 10,600 team members, and Care UK's employee engagement score has improved by 16 per cent over the past five years. This is the result of a number of initiatives including supporting colleagues with professional development routes such as apprenticeships, vocational qualifications and degrees, as well as encouraging initiatives such as the new Buddy programme.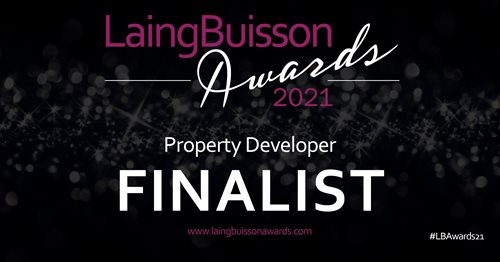 The results are impressive. Since January 2020 more than 100 home managers have enrolled in Care UK's Leading with Care programme and 88 team members have joined its Leadership Development programme. Of this first cohort, 36 per cent have been promoted with a retention rate of 85 per cent. Care UK's sector-leading apprenticeship programme and its ground-breaking chef academy have helped 750 team members progress their careers in the past year alone. The Buddy programme has improved Care UK's90-day retention of team members by 9 per cent year-on-year.
The satisfaction rates of residents and their families have also improved year-on-year, with satisfaction scores for relatives increasing by 3 per cent. This has been achieved via an effective combination of excellent teams, good relationships between teams, residents and their families, and the innovative use of technology.
In order for residents and their families to keep in touch during the darkest days of the pandemic, Care UK vastly increased it's ability for teams to help resident use online channels such as Zoom and FaceTime as well as installing
Covid-safe visiting suites in every single home. Care UK was one of the first providers to put in place a pandemic plan, maintaining regular PPE supplies and investing in fogging machines, air purifiers and thermal imaging cameras for each home to keep people safe..
Other innovations included the introduction of Care UK's own Resident Wellbeing Assessment Tool (which evaluates the impact of social isolation, identifies concerns early on and plays a vital role in reducing distress), Namaste care for residents living with advanced dementia, and working with Active Minds to customise the Relish app for improvement and to collect evidence around resident engagement and wellbeing.
Care UK's work to ensure care home residents enjoy the very best life is underpinned by effective partnerships with NHS trusts, local authorities and charities, as well as a partnership with the University of Worcester which ensures that the latest academic evidence on dementia support is built into every aspect of Care UK's work – from care home layout to badges on uniforms.
Care UK's development of beautiful new care homes makes it a powerful candidate for the second award it has been shortlisted for – the LaingBuisson Property Developer of the Year award.
Over the past decade Care UK has opened 50 new homes so making it one of the most ambitious development commitments in the sector. During the pandemic Care UK built and started operating six new homes, creating hundreds of jobs and adding 400 extra places to its capacity, or 10 per cent of new care home places in England in 2020.
In order to maintain continuous improvement in its homes, each new home is custom designed in association with professional advisers who work closely with Care UK's operational teams, drawing on their knowledge of what makes an outstanding home. This means each home is unique and is developed taking into account any lessons learned from previous new home developments.
As well as investing in new-build homes, Care UK has also spent £6m over the past three years upgrading its older property stock.
Care UK will find out on 18th November whether it has won either of the awards.